I have found this wonderful new blog...
Leigh vs Laundry
and you've got to go check her out. Go on...I'll wait for you but don't forget to come back. Okay isn't she great? If you truly went over there (like I know you all did) you saw that she has started The Happiness Project. I'm going to jump in on this one. You know me and taking pictures! Not to mention sharing what makes you happy through pictures...that's a great twosome.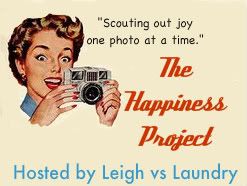 If you would like to join in the fun, and I know that Leigh would just love it if you did, just click on the button above. Now for my first entry. The first thing that I think of that makes me wildly happy is my son. As you saw yesterday, he has a birthday on Saturday and he's turning 10. YIKES! The moments are fleeting where he'll actually hold my hand in public. This evening was one of those wonderful moments. We were shopping at Wal-Mart and he held my hand through most of the shopping trip! Granted we weren't there that long but I'll take every single minute I can get nowadays. Since I seem to be going down memory lane in my head this week as if I'm going through denial that Sam's turning 10 I thought that I would share with you a picture that still just makes my heart pitter-patter every time I see it. This was taken by Andy when we first met Sam when he was just 3 months old. The photo is old and scratched up and was taken with a film camera as digital cameras just weren't that popular or affordable...or were they even around? But you know what? This photo still makes me very happy no matter the condition of it. Because meeting your child for the very first time has got to be one of the happiest memories a mother can have.