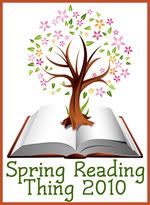 I can't believe that it's time for the Spring Reading Thing 2010 already! I had planned on having my list up a few days but I completely forgot. The SRT runs from March 20th through June 20th.
So here's a start to my list. I'm going to revise it in a few days and hopefully add a photo and links to go with it!
1. Donut Days by Lara Zielin
2. E is for Ethics by Ian James Corlett (there will be a review and a giveaway coming with this one!)
3. Everyone Communicates, Few Connect: What the Most Effective People Do Differently by John C. Maxwell (review coming up)
4. Little House on the Prairie by Laura Ingalls Wilder (I'm re-reading the whole series)
5. Little House in the Ozarks: The Rediscovered Writings edited by Stephen W. Hines
6. Masterpiece by Elise Broach
7. The Sisterhood of the Traveling Pants by Ann Brashares
8. Sunny Holiday by Coleen Paratore
9. Living Dead in Dallas by Charlaine Harris
Are you participating? Do you want to? Just click on the button above! It's a lot of fun and I find myself reading more and more during these challenges. If you don't have your own blog it shouldn't deter you from participating!