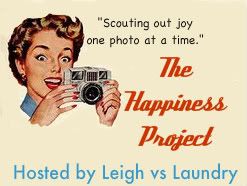 For this weeks Happiness Project photo I am using one from a couple years back. It's one of Sam standing in front of a tent that we borrowed and put up by ourselves. He was very proud of himself for helping me out. I love camping and it makes me VERY happy when I get to go. Guess what?!?! We're going this weekend! I can hardly wait!
Don't forget to enter my two current giveaways:
EcoSMART Value Bundle
Barnes & Noble Giftcard
I'm trying to raise money for Relay for Life and would love to have your support!