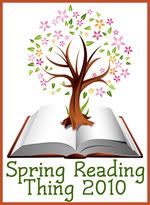 It's been 7 weeks since the Spring Reading Thing of 2010 started and I have to admit that since I last posted an update (2 weeks ago) I haven't done as much reading as I wish I had. Below you'll see my list updated.
1. Donut Days
by Lara Zielin ~
DONE

2. E Is for Ethics
by Ian James Corlett ~
DONE

3. Everyone Communicates, Few Connect: What the Most Effective People Do Differently

by John C Maxwell ~
DONE

4. The Gollywhopper Games
by Jody Feldman ~
DONE

5. Fireworks Over Toccoa
by Jeffrey Stepakoff ~
DONE
6. Nurk: The Strange, Surprising Adventures of a (Somewhat) Brave Shrew
by Ursla Vernon -
DONE
7. Remember Me?: A Novel
by Sophie Kinsella -
DONE
8. Celia's Puppies: The Denver Cereal Vol 2 ~

DONE

and there is a current GIVEAWAY going on!
9. Spiced: A Pastry Chef's True Stories of Trails by Fire, After-Hours Exploits, and What Really Goes on in the Kitchen
by Dalia Jurgensen -
Currently Reading
(review and giveaway coming up!)
10. Little House in the Ozarks: The Rediscovered Writings (Laura Ingalls Wilder Family Series)
edited by Stephen W Hines ~
Currently Reading
11. The Revolutionary Paul Revere
by Joel Miller ~

DONE

12. Little House on the Prairie (Little House, No 2)
by Laura Ingalls Wilder ~

Currently Reading


13.Masterpiece
by Elise Broach
14. Living Dead in Dallas
by Charlaine Harris ~

DONE



I took some books off of the list so now my list is shorter but I did pick up some books at the library today. I just don't have them nearby so I'll add them later. The end of this reading challenge is June 20th and I'm really enjoying the challenge. I usually read more during these reading challenges than any other time of the year. I'd like to see that change though to where I read like this year round.

Are you participating? Do you want to? Just click on the button above! It's a lot of fun and I find myself reading more and more during these challenges. You can join at any time too so don't let the dates hold you back. If you don't have your own blog it shouldn't deter you from participating...leave your list here in my comments! I'd love to see what you are reading.