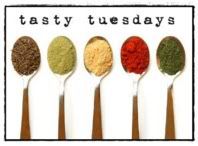 Today is Tuesday so it's time for
Tasty Tuesday
! Today I'm going to share with you a Mexican Enchilada Sauce. This is a sauce that I found years ago once I realized that I could make it a whole lot cheaper than buying cans of it at the store.
Mexican Enchilada Sauce
Ingredients
3 tablespoons chili powder
3 tablespoons flour
1 teaspoon cocoa powder
1/2 teaspoon garlic salt
1 teaspoon oregano
3 cups water
1 (8 ounce) cans tomato sauce
Directions
Combine all dry ingredients in a small bowl.
Stirring constantly, slowly add enough of the water to make a thin paste.
Pour into pan and add rest of water.
Cook over medium heat, stirring constantly, until mixture thickens.
Stir in tomato sauce.
Use in your favorite enchilada recipe.
The amounts on the ingredients are very flexible. For instance, if you are feeding those that don't like "spicy" you can halve the chili powder and double the tomato sauce. Experiment to suit your taste,
but DON'T leave out the cocoa
. This recipe made enough for me to use it in a recipe for Chicken Enchiladas and have enough left over to save in this jar for the next time that I want to use it!
ENJOY!