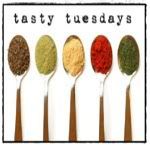 It's Tuesday and time to jump on the Tasty Tuesday Blog Hop. If you've never participated before it's a lot of fun. Just head on over to
33 Shades of Green
to see what it's all about. You can link up there, here or on anyone that has the blog hop on their post! It's a great way to find new recipes!
1 1/2 cups milk
1 cup sugar
3/4 cup shredded coconut
2 eggs, beaten
3 tablespoons all-purpose flour
1 tablespoon butter or margarine, melted
1/4 teaspoon vanilla extract
1 (9-inch) unbaked pastry shell
Directions:
1. Preheat oven to 350 degrees F.
2. In a large bowl, place milk, sugar, coconut, eggs, flour, butter and vanilla; stir until combined. Pour into pie shell. Bake for 50 minutes or until a knife inserted near the center comes out clean. Cool to room temperature. Refrigerate leftovers.