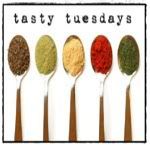 It's Tuesday and time to jump on the Tasty Tuesday Blog Hop. If you've never participated before it's a lot of fun. Just head on over to
33 Shades of Green
to see what it's all about. You can link up there, here or on anyone that has the blog hop on their post! It's a great way to find new recipes!
This past Easter I made a pie called Easter Hunt Pie. It was the hit of the party and it was soooo good! Not to mention EASY! It's from
Eagle Brand's site
and is basically a vanilla cream cheese pie. You could change it up any way you wanted and decorate it for any season.
1 (6 oz.) prepared graham cracker pie crust
1 (8 oz.) package cream cheese, softened
1 (14 oz.) can Eagle Brand® Sweetened Condensed Milk
3/4 cup cold water
1 (4-serving size) package instant vanilla flavor pudding mix
1 1/2 cups frozen whipped topping, thawed
Jelly beans, marshmallow candies or other small Easter candy
Toasted coconut for garnish
BEAT cream cheese in large bowl until fluffy; gradually beat in sweetened condensed milk until smooth. Add water and pudding mix; on low speed, beat until smooth. Gently fold in whipped topping.
SPOON filling into pie crust. Chill 3 hours. Garnish top of pie with jelly beans, marshmallow candies and toasted coconut as desired and serve.
* For young children, use holiday marshmallow candies or soft candies.