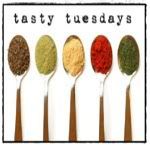 It's Tuesday and time to jump on the Tasty Tuesday Blog Hop. If you've never participated before it's a lot of fun. Just head on over to
33 Shades of Green
to see what it's all about. You can link up there, here or on anyone that has the blog hop on their post! It's a great way to find new recipes!
A few weeks ago when we celebrated the last day of school by staying up all night we made S'mores. But since we were at home we made them in the microwave and some of them were made with Peanut Butter Cups! They are soooo yummy! Enjoy!
Lay one half of a Graham cracker (2 sections on a microwave plate and add a peanut butter cup to the top. Microwave for about 10 seconds on high. Add a large marshmallow to the top of the softened peanut butter cup and microwave 5 to 10 seconds--you'll have to watch it and judge according to your microwave. You'll want the marshmallow to swell up. Take out of the microwave and top with the second half of the Graham cracker, smush it together and gobble it up!