Since I completely forgot to publish my Tasty Tuesday post and now I'm running late in getting my Wordless Wednesday post up I thought I would just combine the two. Remember that if you'd like to see more Tasty Tuesday posts to click on the button below. There are always a lot of great recipes to be found every Tuesday.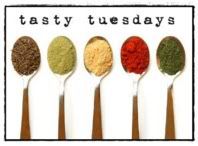 I must really be liking Banana Bread lately because I've found another recipe that I'm in love with! In fact I'll be making more today (or tomorrow). I found this recipe on
Food.com
. This one makes a great crust and the bread itself is so moist! The tang of the sour cream along with the sweetness of the bananas....oh my! You'll have to make this one for yourself for sure!
Sour Cream Banana Bread
Ingredients:
1/2 cup margarine or 1/2 cup butter
1 cup sugar
2 eggs
1 teaspoon vanilla
1 1/2 cups flour
1 teaspoon baking soda
1/2 teaspoon salt
1 cup mashed banana
1/2 cup chopped nuts (omit if you don't like nuts)
1/2 cup sour cream
Directions:
Grease 1 large loaf pan.
Cream margarine, sugar, eggs and vanilla.
Add dry ingredients, then bananas, nuts and sour cream.
Mix well.
Bake at 350 F for 1 hour.
To see more Wordless photos head on over to
Wordless Wednesday
,
5 Minutes for Mom
,
Live and Love...Out Loud
,
Project Alicia
and
J. Leigh Designz
. Now if you're like me and sometimes you can't stay wordless head on over to see some Wordful Wednesday photos at
Parenting by Dummies
. Don't forget to sign the Linky below.