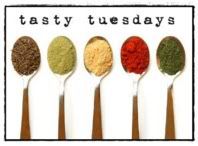 It's Tuesday and time to share some recipes over at Tasty Tuesday! Just click on the button above and enjoy all the amazing photos!
Mine this week is soooooo good and so inexpensive to make! My kind of recipe. Tomorrow is Wordless Wednesday...so make sure you come back! On Thursday I'm posting my list for the
Fall Into Reading Challenge
.
Corn Casserole
Ingredients:
1 (15 1/4-ounce) can whole kernel corn, drained
1 (14 3/4-ounce) can cream-style corn
1 (8-ounce) package corn muffin mix (recommended: Jiffy)
1 cup sour cream
1/2 cup (1 stick) butter, melted
1 1/2 cups shredded cheddar
Instructions:
Preheat oven to 350 degrees F.
In a large bowl, stir together the 2 cans of corn, corn muffin mix, sour cream, and melted butter. Pour into a greased 9 by 13-inch casserole dish. Bake for 45 minutes, or until golden brown. Remove from oven and top with Cheddar. Return to oven for 5 to 10 minutes, or until cheese is melted. Let stand for at least 5 minutes and then serve warm.