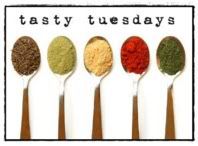 It's Tuesday and time to share some recipes over at
Tasty Tuesday
! Just click on the button above and enjoy all the amazing recipes!
I had an amazing Halloween themed party at my house this past Friday evening and one of the hits of the night was my Pumpkin Soup. Thought I would share it with you today. It's super easy to make, makes your house smell good and best of all it's soooo yummy! I did double this recipe and now have some in my freezer for later. Can't wait to have it again.
I'm thinking that I'm going to be making even more soups this fall/winter season. Do you have any that are just outstanding that you'd like to share? I'm always looking for new recipes to try.
6 cups chicken stock
1 1/2 teaspoons salt
4 cups pumpkin puree (can use canned)
1 teaspoon chopped fresh parsley
1 cup chopped onion
1/2 teaspoon chopped fresh thyme
1 clove garlic, minced
1/2 cup heavy whipping cream
5 whole black peppercorns
Heat stock, salt, pumpkin, onion, thyme, garlic and peppercorns. Bring to a boil, reduce heat to low, and simmer for 30 minutes uncovered.
Puree the soup in small batches using a food processor or a blender. I used an immersion blender in the pot and it worked just fine.
Return to pan, and bring to a boil again. Reduce heat to low, and simmer for another 30 minutes, uncovered. Stir in heavy cream. Pour into soup bowls and garnish with fresh parsley or some cracked pepper.