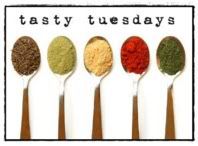 It's Tuesday and time to share some recipes over at
Tasty Tuesday
! Just click on the button above and enjoy all the amazing recipes!
Last week I thought I'd try something fun and very different. I'm pretty sure that it came from a show that Sam watches every now and then, iCarly, and I have to say that they were
REALLY GOOD
! It's Spaghetti Tacos. Trust me on this one. The two flavors of the spaghetti and the hard taco shells go together like you wouldn't believe. Of course you can really change this one around to your tastes by adding meatballs on the bottom, having just spaghetti noodles and sauce, or spaghetti noodles with a meat sauce (which is what I did). And, changing the flavor of the sauce will change it as well.
Ingredients
1 (16 ounce) package spaghetti
1 (28 ounce) jar spaghetti sauce (I used a can of Hunt's Four Cheese)
1 (5.8 ounce) package crisp taco shells
1/4 cup grated Parmesan cheese
Optional: Ground Meat or Meatballs
Directions
Fill a large pot with lightly salted water and bring to a rolling boil over high heat. Once the water is boiling, stir in the spaghetti, and return to a boil. Cook the pasta uncovered, stirring occasionally, until the pasta has cooked through, about 8 minutes. Drain well in a colander set in the sink.
Return the pasta to the pot, and pour the sauce over the pasta; mix thoroughly until reheated. Place the taco shells into a microwave oven in a stack, and fan the stack out to a circular shape so the edges of the taco shells overlap slightly. Cook on High until warmed and crisp, 30 to 45 seconds. Fill the warm taco shells with the pasta mixture. Sprinkle pasta filling of each shell with about 1 teaspoon of Parmesan cheese to serve.