Joy # 16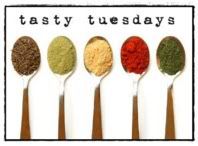 My 16th Joy comes weekly. I don't participate as much as I'd like to and I hope that will change. But life comes first. I love to cook and bake for my family and seeing them enjoy what I make gives me great joy.
It's Tuesday and time to jump on the Tasty Tuesday Blog Hop. If you've never participated before it's a lot of fun. Just head on over to
33 Shades of Green
to see what it's all about. You can link up there, here or on anyone that has the blog hop on their post! It's a great way to find new recipes!
I've shared this one before but it's going into the oven tonight! For this time of year it's not only a great main dish but also a fantastic side dish as well. Thinking that I might make it again next week when my family is in town.
Here are the ingredients in the pan before the soup and milk were added and after. The third picture was one taken the last time we had it. Delicious!
Chicken Noodle Casserole
INGREDIENTS:
2 cups chicken (or turkey), cooked and cubed
2 cups elbow macaroni, not cooked
2 cups milk
2 cans condensed cream of celery soup
1 cup cubed processed cheese
2 cups onions, chopped
DIRECTIONS:
1. In a 9x13 baking dish combine the chicken, macaroni, milk, soup, cheese, and onions. Mix all together, cover the dish and let it sit over night in the refrigerator. If not overnight at least 6 hours.
2. Preheat oven to 350 degrees F.
3. Bake for 1 hour at 350 degrees F.
MY NOTES:
Mix the soup and milk together before adding it to the rest of the ingredients. This may be a basic and simple recipe but don't let that deceive you. It's AMAZING! Feel free to change the meat, add veggies or change things up a bit. But the main key to this recipe is letting it all sit together for at least 6 hours. If you make this one I implore you to make it as it appears here first before you change it up. ENJOY!