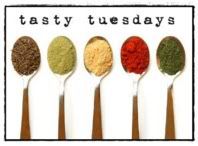 It's Tuesday and time to share some recipes over at
Tasty Tuesday
! Just click on the button above and enjoy all the amazing recipes!
Thought I'd share with you a recipe that I tried awhile back and shared it with my Sunday School class. They all loved it!
Pin It
Pumpkin Pound Cake
Ingredients:
Cake:
Cooking Spray
1 tablespoon all-purpose flour
1 (15-ounce) can pumpkin
3/4 cup granulated sugar
3/4 cup packed dark brown sugar (I used light brown sugar and it was just fine)
1/2 cup butter, softened
4 large eggs
1 teaspoon vanilla extract
3 cups all-purpose flour (about 13 1/2 ounces)
1 1/2 teaspoons pumpkin pie spice
1 teaspoon baking powder
1/2 teaspoon baking soda
1/2 teaspoon salt
3/4 cup fat-free buttermilk
Glaze:
1/3 cup fat-free buttermilk
1/4 cup granulated sugar
2 tablespoons butter
2 teaspoons cornstarch
1/8 teaspoon baking soda
Preparation
Preheat oven to 350 degrees F.
To Prepare the cake, lightly coat a 10-inch tube pan with cooking spray; dust with 1 tablespoon flour. Spread pumpkin over 2 layers of paper towels; cover with 2 additional layers of paper towels. Let stand about 10 minutes. Scrape drained pumpkin into a bowl.
Place 3/4 cup granulated sugar, brown sugar and 1/2 cup butter in a large bowl; beat with a mixer at medium speed for 3 minutes or until well blended. Add eggs one at a time, beating well after each addition. Beat in pumpkin and vanilla. Lightly spoon 3 cups flour into dry measuring cups, and level with a knife. Combine flour and next 4 ingredients (through salt) in a bowl, stirring well with a whisk. Add flour mixture and 3/4 cup buttermilk alternately to sugar mixture, beginning and ending with flour mixture.
Spoon batter into prepared pan. Bake at 350 degrees F for 55 minutes or until a wooden pick insterted into the center comes out clean. Cool in pan 10 minutes on a wire rack. Remove from pan, and cool completely on wire rack.
To prepare glaze, combine 1/3 cup buttermilk and remaining ingredients in a small saucepan over medium heat; bring to a boil. Cook 1 minute or until thick, stirring constantly; remove from heat. Drizzle cake with glaze.