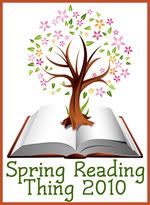 I've actually gotten a couple more books read and with a longer weekend coming up I'll get a chance to read a bit more. Not to mention that next Friday school will finally be done for the year! That means just a little bit more reading time too!
Here is my list as of now. Spring Reading Things ends on June 20th so I still have time to get a few more books read.
1. Donut Days
by Lara Zielin ~
DONE

2. E Is for Ethics
by Ian James Corlett ~
DONE

3. Everyone Communicates, Few Connect: What the Most Effective People Do Differently

by John C Maxwell ~
DONE

4. The Gollywhopper Games
by Jody Feldman ~
DONE

5. Fireworks Over Toccoa
by Jeffrey Stepakoff ~
DONE
6. Nurk: The Strange, Surprising Adventures of a (Somewhat) Brave Shrew
by Ursla Vernon -
DONE
7. Remember Me?: A Novel
by Sophie Kinsella -
DONE
9. Spiced: A Pastry Chef's True Stories of Trails by Fire, After-Hours Exploits, and What Really Goes on in the Kitchen
by Dalia Jurgensen -
Currently Reading
(review and giveaway coming up!)
10. Little House in the Ozarks: The Rediscovered Writings (Laura Ingalls Wilder Family Series)
edited by Stephen W Hines ~
Currently Reading
11. The Revolutionary Paul Revere
by Joel Miller ~

DONE

12. Little House on the Prairie (Little House, No 2)
by Laura Ingalls Wilder ~

Currently Reading


13.Masterpiece
by Elise Broach
14. Living Dead in Dallas
by Charlaine Harris ~

DONE
15. My Thirteenth Season
by Kristi Roberts ~

DONE


16. Three Good Deeds
by Vivian Vande Velde ~

DONE

Are you participating? Do you want to? Just click on the button above! It's a lot of fun and I find myself reading more and more during these challenges. You can join at any time too so don't let the dates hold you back. If you don't have your own blog it shouldn't deter you from participating...leave your list here in my comments! I'd love to see what you are reading.