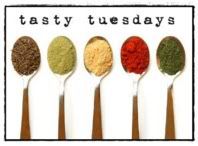 For this weeks submission to
Tasty Tuesdays
I thought I would share a recipe with you that I found a few weeks back. I was looking for a meatloaf recipe that would be quick and easy to do. I have one that takes a lot more prep time than this one but since I was going to be making this one for a friend who had just lost her father I wanted quick. And the bonus? It was AWESOME and it made two loafs! I found the
recipe here
.
Easy Meatloaf Recipe with Oatmeal
Meatloaf Ingredients
1 1/2 pounds ground beef
3/4 cup uncooked oats
3/4 cup ketchup
1 egg
1 envelope onion soup mix
Meatloaf Topping Ingredients
1/2 cup ketchup
1/4 cup brown sugar
2 tablespoons Worcestershire sauce
1 teaspoon prepared mustard
Preheat oven to 350 degrees Fahrenheit. Mix all of the meatloaf ingredients (not including the topping) in a large bowl. Mix well, making sure to get the soup mix combined well with the rest of the meatloaf ingredients. Shape ground beef mixture into a loaf shape in a large baking pan. Glass baking pans are better, as the meatloaf doesn't stick as badly and you can see through the dish if the meatloaf is done. Place in oven for 30 minutes.
Meanwhile, mix all of the meatloaf topping ingredients together in a small bowl. Mix well to avoid lumps in the brown sugar. A fork works best to mix up the meatloaf topping. After 30 minutes, remove the meatloaf from the oven. Spread the meatloaf topping evenly over the meatloaf with a spatula or pastry brush. Return the meatloaf to the oven at 350 degrees for approximately another 30 minutes or until the internal temperature reaches 160 degrees Fahrenheit. Let meatloaf stand for about five minutes before slicing.
Serves 6
Meatloaf may be stored frozen for 3 months.
*Note:
This meatloaf recipe uses more ketchup than most, so the meatloaf may have a reddish tinge. This is why it's important to use a meat thermometer to determine if the meatloaf is fully cooked.
MY NOTES:
I used two disposable loaf pans instead of one bigger glass pan as it said above. Also...these disposable loaf pans are wonderful to bake these in if you are going to freeze one to use later. My tip is that you freeze it in the pan you are going to cook it in...but first line the pan with foil before you cook it. Once the meatloaf is cooled you can put it in your freezer. That way once it is frozen you can lift the meatloaf out of the pan wrap it up securely to put back into the freeze and you can have your pan back. When you are ready to cook it again just defrost and slip it back into a loaf pan to warm it back up! EASY!