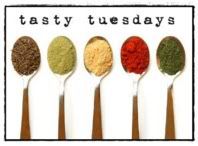 It's Tuesday and time to jump on the Tasty Tuesday Blog Hop. If you've never participated before it's a lot of fun. Just head on over to
33 Shades of Green
to see what it's all about. You can link up there, here or on anyone that has the blog hop on their post! It's a great way to find new recipes!
Here I am again this week adapting another recipe. Go figure. I knew what I had on hand and didn't want to run to the store. So I sat down on the computer and found a recipe that was close enough to what I had and that I could, without to much trouble at all, tweek the recipe for my ingredients. And may I say that this is not a good for you recipe....but it sure was good! We ate it for dinner last week and I must say that the leftovers were soooo good and didn't last long.
Pasta and Shrimp
Ingredients:
1 package of any pasta of your choice
1/2 cub butter
2 cloves garlic, minced
1 (3 ounce) package cream cheese
3/4 teaspoon dried basil (or fresh if you have it)
2/3 cup boiling water
1/2 pound cooked shrimp (or a full pound should you so desire)
Directions:
Boil your pasta according to it's directions. Drain.
Meanwhile, melt 1/2 cup butter with the minced garlic. Stir in the cream cheese, breaking it up with a spoon as it melts. Stir in the basil. Simmer for 5 minutes. Mix in boiling water until sauce is smooth. Stir in cooked shrimp and heat through.
Toss pasta with shrimp sauce, serve and enjoy!