STOP!
Before you do anything else I have a HUGE favor to ask you.
Please
read this post "HERE" and vote
for the school mentioned trying to win the grand prize from Big Lots. You can vote 3 time a day per day until July 4th. It would mean the world to them as they have so little while we all have so much. Then come back here!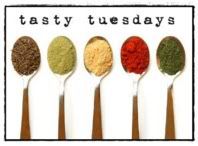 This week I find myself using a recipe that I posted on here over a year ago for this weeks
Tasty Tuesday
. I'm doing so because I'm in the midst of packing up our house and we'll be moving in two weeks. So, unless I do something new this week it will be reruns again next Tuesday as well. But I'm hoping not. This time Tuesday just snuck up on me.
A year or so ago I tried my hand at making Homemade Sloppy Joe's. I was in the mood to have them but didn't have my usual packet or can of sloppy joe mix. So to the computer I went to find a recipe because I couldn't find my grandma's recipe. I thought that I had it but if I do it's not with my recipes or in one of the old church recipe books. I found a TON of recipes on the Internet but none that really peaked my interest. So I made it up as I went along. After reading through so many of them I knew the basics and went to town. I am turning into my dad when it comes to some of my cooking because when I make it up as I go along I tend to forget what I did and don't write it down. I used what I had here at the house and if you would like to give it a try here is what I did.
Slow Cooker Homemade Sloppy Joe's
1 pound ground beef
1 pound ground turkey
3 tbs dried onion
1 red bell pepper diced (small to medium size but no larger)
2 tbs of
Tastefully Simple
Garlic Garlic (this is basically minced garlic, minced onion, salt, garlic powder, and chives)
1 tsp onion powder
2 tsp chili powder
1 can tomato sauce
1 small can tomato paste
3 tbs vinegar
1/4 cup brown sugar
1/3 cup Worcestershire sauce
Brown the meat and just before the meat was completely browned I added in the dried onions. Drain the meat. Return meat to pan and add in the remaining ingredients. Mix well. Put everything into a slow cooker and cook on low for 4-6 hours.
It turned out so well that we all had seconds! It even made enough that I have leftovers in the freezer for another night.