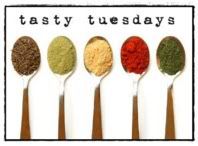 I'm finally moved and have done some creating. I had some leftover berries that we had over the 4th of July and created some Berries and Cream Popsicles. ENJOY!
Berries and Cream Popsicles
Berry Layer:
1 Cup Frozen Berries Thawed with juices. (I used Strawberries, Blueberries and Blackberries)
1 Cup Strawberry Koolaid (or you can use Crystal Light Strawberry or an off brand)
If needed....1 packet of sweetner
Cream Layer:
1 Cup milk
3 Tbsp Sweetened Condensed Milk
1 1/2 tsp Vanilla
Place berry mixture and koolaid in a blender and blend to a liquid consistency. In another bowl you can go ahead and mix together all of the cream layer and place in your refrigerator until needed. Pour in some of the berry layer and let freeze for one hour. Then pour a cream layer and freeze for one hour. Finally pour one more layer of the berries and put in the stick and freeze for another few hours. I had enough that I made 6 in my molds and 6 more in dixie cups with popsicle sticks.
Sam said that these were the best he's had...and I have to agree! Can't wait to make more as we've been eating them like crazy ever since they froze. Looking at making more kinds of popsicles really soon. Stay tuned.....