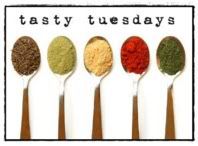 It's Tasty Tuesday and I'm back again to share with you a recipe that I have had people begging me for. It's a bread that you really can only make during the right time of year because it uses bananas and peaches. This is a bread that is great as a breakfast bread, snack time bread, dessert bread...heck it's a good bread to have at anytime of day. It's not only tasty but it's a very moist bread. Try it today! If you'd like to see more recipes click on the button above and enjoy.
Peach Banana Bread
Ingredients:
2 Cups Flour
1 1/2 Cups Sugar
1 tsp Baking Soda
1/2 tsp Baking Powder
1/4 tsp Cinnamon
1/2 tsp Salt
2 Eggs
1/3 Cups Oil
1 tsp Vanilla
1 Cup Mashed Bananas
1 Cup Peaches - chopped into small pieces
3 Tbsp Cinnamon Sugar
Instructions:
Preheat oven to 350 degrees
In a medium bowl combine flour, sugar, soda, powder and spices. Make a well in the center. In a small bowl beat the eggs. Then whisk in the oil, vanilla and bananas. Pour wet ingredients into the well you made in the dry ingredients and stir just until moistened. Fold in the peaches and do not over mix. Divide between 2 greased 8" x 4" loaf pans. Sprinkle each with 1 1/2 Tbsp of Cinnamon Sugar. Bake for 40 - 50 minutes or until a toothpick inserted comes out clean.