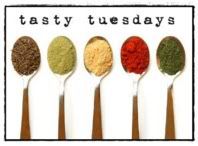 It's Tuesday and time to share some recipes over at Tasty Tuesday! Just click on the button above and enjoy all the amazing recipes!
The recipe that I am sharing today is SUPER easy and if, and I do mean if, you have any leftovers they are so easy to either freeze or pack up in your next days lunch. They are even good cold.
Cheesy Salsa-Mini Meat Loaves
1 pound ground beef
1/2 cup finely chopped onions
1 egg
12 premium saltine crackers, finely crushed (about 1/2 cup)
1 1/2 cups kraft mexican style finely shredded four cheese, divided
1 cup taco bell home originals thick n chunky salsa, divided
Heat oven to 400 degrees F.
Mix first 4 ingredients with 1 cup cheese and 1/2 cup salsa.
Press into 12 muffin cups sprayed with cooking spray. Use back of spoon to make indentation in center of each. Place muffin pan on foil-covered baking sheet.
Bake 20 to 25 minutes or until meat loves are done (160 degrees F). Top with remaining salsa and cheese; bake 3 minutes or until cheese is melted.