Joy # 33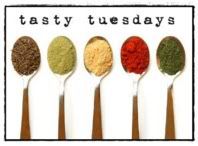 I made quite a bit of cookies this year and I tried quite a few new recipes. I think one of them has stood out above all the others though. Luckily it's a cookie you can make year round! Woo Hoo! This is a recipe from Betty Crocker and it uses one of their cookie mix pouches. I know, I know, I know...I normally do not use mixes...but I'm telling you now....YOU NEED TO TRY THIS ONE! To see more wonderful recipes just click on the Tasty Tuesday button above and start exploring.
Cranberry Cream Cheese Snickerdoodles
Pin It
Ingredients:
1 pouch Betty Crocker® snickerdoodle cookie mix
4 oz (half of 8-oz package) cream cheese, softened
1/4 cup butter, margarine or spread, softened
1 tablespoon water
1 egg
1 cup sweetened dried cranberries
Directions:
Mix cream cheese and butter in bowl untl smooth. Open cookie mix; remove cinnamon sugar packet; set aside. Add water, egg and cookie mix to cream cheese mixture until soft dough forms. Stir in cranberries. Cover; refrigerate 30 minutes.
Drop dough by rounded teaspoonfuls into bowl with cinnamon sugar packet; roll to coat. Place 2 inches apart on ungreased cookie sheets.
Bake at 375°F for 8 to 9 minutes or until edges are set. Cool 1 minute; remove from cookie sheets to cooling rack. Cool completely.